That's right— throw away that chemical dye that you use to dye your eggs. Canadian blogger, cookbook author and Greek food expert Peter Minaki has some tried and tested ways to dye your eggs bright red— the traditional Greek way— or even green, pink, maroon or yellow if you prefer.
Peter Minaki is Canada's most well-known Greek food expert, blogger and chef. He has published two cookbooks and his blog Kalofagas is followed by tens of thousands of people.Peter currently hosts and cooks for the "Kalofagas Greek Supper Club" in Canada— a popular evening of traditional, planned menus featuring Greek regional cuisines paired with local wines and historical and cultural explanations of the regions.
He is active on social media and often posts to his Facebook and Twitter pages. Peter took some time away from his Easter preparations to share some of his favorite Easter tips with readers of The Pappas Post— including naturally dyed eggs. Peter's recipes below are measured for 12 eggs. They should be room temperature when you begin.
For Red Eggs
-the skins of approx. 10 medium yellow skinned onions
-5 cups of water
-2 Tbsp. white vinegar
For Blue Eggs
-5 cups of finely chopped purple cabbage
-5 cups of water
-2 Tbsp. white vinegar
1. Add your dry ingredients into a pot and pour enough water to cover by over an inch. Bring up to a boil and then simmer for 30 minutes. Take off the heat and allow to cool to warm.
2. Remove the purple cabbage or onions skins and place the eggs gently in the respective pot. Bring back to boil and simmer for 5 minutes then take off the heat.
3. Allow the eggs to cool in the dye then transfer to your fridge to set overnight.
4. Remove the eggs with a slotted spoon and allow to air-dry (about 45 minutes). Dab a white paper towel into some vegetable oil and polish then place in the egg carton and store in the fridge until needed.
NOTE: Want to make some other colored eggs?
Use brown eggs with purple cabbage to get green eggs
Use brown eggs with yellow onions to get rusty red eggs
Use shredded beets with white eggs to get pink eggs
Use shredded beets with brown eggs to get maroon brown (same water to vinegar to vegetable matter ratio)
Use 2 Tbsp. of tumeric per cup of water for yellow eggs
Get Peter's two cookbooks: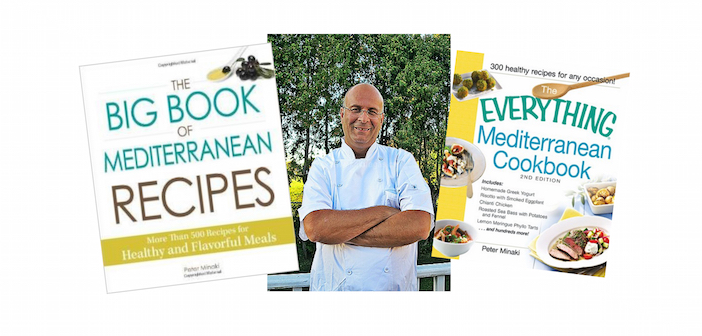 The Big Book of Mediterranean Recipes: More Than 500 Recipes for Healthy and Flavorful Meals
The Everything Mediterranean Cookbook