Michael Psilakis knows a thing or two about roasting a lamb. His best-selling book "How to Roast a Lamb" is dedicated to the feast of all feasts and includes dozens of things he learned from his Cretan-Kalamata culinary heritage. Psilakis is the executive chef and co-owner of Fishtag, chef and co-owner of Kefi and the former chef and co-owner of Anthos and Mia Dona, all in Manhattan. He also has a successful of casual dining tavernas in hip New York neighborhoods called MP Taverna.
Easter is one of Psilakis' favorite times of year– but realizes it can be stressful.
Three Tips from Chef Psilakis on Prepping for the Big Day:
1. Don't get overwhelmed. "People get nervous about cooking for a group, but they shouldn't because all you're doing is cooking more."
2. Get organized! "My biggest tip for anyone is to start by writing down a production list. It is something we still do every day at the restaurant. List what to do in an orderly fashion. If you need to peel garlic for one thing, peel enough so you have it for all the other recipes. It's those little things that you keep putting back that take up time." His advice: Plan out cooking the way you plan out the day in the office. "Take the time to think about it, put it down on paper. Spend more time thinking, and that will allow you to spend less time cooking."
3. Remember the reason you're there. "At the end of the day, it's about the people you have coming over to your house: the people you love. I can't help but make things more elaborate than they should be, but I try to focus on making good, clean food that allows me to spend as much time as I can with the people I'm inviting over. Food is just the vehicle we use to bring us all together."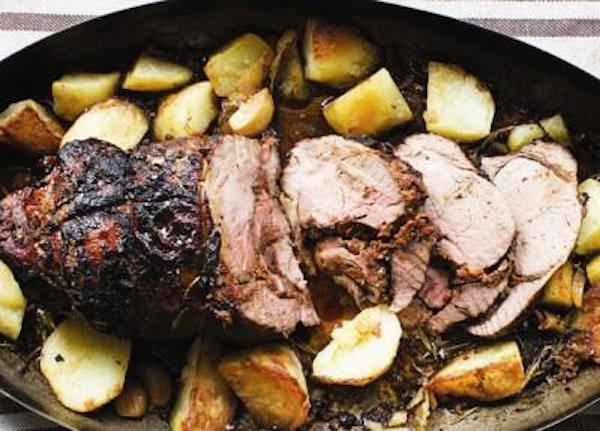 Michael Psilakis' Greek Easter Lamb
1 whole (6-pound) leg of lamb, on the bone
Salt and pepper, to taste
1 head garlic, each clove peeled and separated from the head
1 onion, peeled and cut into 4 pieces
1 carrot, peeled and cut in 2 pieces
1 fennel, cut in 4 pieces
3 potatoes, peeled and cut in wedges
4 sprigs rosemary
4 sprigs oregano
4 sprigs thyme
4 sprigs sage
1/4 cup dry white wine
1/4 cup water
Olive oil
1/4 cup lemon juice
2 lemons
Season lamb with salt and pepper. Make slits in meat and push 3 or 4 cloves of garlic into meat.
Arrange vegetables, remaining garlic cloves, herbs, and lamb in a roasting pan. Pour wine, water, and lemon juice on bottom of pan.
Cover with aluminum foil and bake at 325 degrees F for 1 hour 30 minutes, until pulling away from the bone.
At the last 15 minutes of baking remove aluminum and raise temperature to 450 degrees F. Allow the lamb and vegetables to brown, and dress with olive oil and squeeze the juice of the remaining two lemons onto the finished lamb and vegetables before serving.
Get the bestselling cookbook. Click the image below.