Greece has been facing a lengthy 6-year recession, and is the country with the highest unemployment rate in the entire EU—according to the European Union's Eurostat database. Despite this, the Greeks have been making a comeback and are as resilient as ever. As a proud Greek-American, with a soft spot for how they're managing a "come back" I've provided a clear-cut explanation of the situation in Greece below.
The Current Economic Situation:
Eurostat has been assessing the state of the European Union economy and recently released their 2014 report. As of March Greece has the highest unemployment rate in the EU at 26.8%–followed closely by Spain. Even more alarming is their unemployment rate among young adults (25 and under)—at 57.7%.
The country's state isn't without silver linings however. The Global Competitiveness Report released by the World Economic Forum revealed this year that Greece has moved up to 91/148 countries—increasing their global competitive edge. The report notes that "Greece has started to show improvements in a number of other areas….Slight improvements are seen in the country's institutional environment, the efficiency of its labor markets, and technological adoption." Furthermore the report states that Greece has a number of strengths it can monopolize on; including a "reasonably well educated workforce that is adept at adopting new technologies." At the moment, they just need access to financing. Financing may eventually become available: the Bank of Greece expects the economy to expand by 0.5% and finally break through the 6 year recession.
The Growing "Fix"
The path to a potential boom is being led by the young adults with the excellent education and ability to adapt—the good they're peddling: the classic Mediterranean diet; with great success. They're taking their passion for their ancient way of eating and sharing it with the world.
To witness this passion one need only to look at Athinagoras Kostakos who may only be 30 years old but he's cooking like an old soul: Kostakos's culinary home at Bill and Coo Hotel, Mykonos, Greece, uses local recipes, ingredients and folklore to provide culinary treats with ancient roots. He may well become Greece's version of France's Paul Bocuse—the man responsible for bringing a "nouvelle" twist to "classique" cuisine.
Of his Chef—and the current state of affairs—General Manager of the Bill and Coo Hotel, Panagiotis Sopiadis puts it succinctly: "It is during the difficult times that we appreciate and respect our tools and efforts. Greece as a brand name is stronger than ever and it is our responsibility to keep it this way providing our best characteristics hospitality and culinary services." Kostakos is not alone in his pride—young Greek entrepreneurs throughout the country are finding ways to export Greek staples. With innovative young chefs and entrepreneurs on the rise, it's easy to see Greece's future is bright. Products from the likes of Mario Batali and Gordon Ramsey (other foreign super chefs) are popular around the world and so are the types of food they tout.
The United States (among other regions) is receptive to this dietary "exportation": Dr. Artemis Simopoulos author of "The Omega Diet" led a culinary team to Capitol Hill in 2013 to extol the virtues of the Mediterranean diet in correlation with the "Let's Move!" program started by Michelle Obama.
The event was planned by the Hellenic Caucus with the aim to raise awareness about of the myriad health benefits of the traditional Greek diet and strengthen and promote the exportation and trade of all the healthy food products these young super stars are providing. One of the attending chefs noted "This event will show that eating healthier doesn't mean sacrificing flavor. The Greek Mediterranean Diet can play a big role in promoting a healthier lifestyle." Indeed, with the Mediterranean diet eating well has never been so tasty.
The Hellenic Caucus isn't the only group that recognizes how special Mediterranean eating is. UNESCO listed The Greek Diet as an "intangible cultural heritage of humanity" in 2010 stating it needed to be recognized "as a great contribution to the World, for the population's health, quality of life and well-being."
Conclusion:
There's no question that Greece has been through some rough times—but there may well be a light at the end of the tunnel. The Bank of Greece, World Economic Forum, and European Union Eurostat seem to agree. If the young culinary-mind Grecians have anything to say about it, there certainly will be. As a proponent of Greek eating, and a proud Greek American myself, I'm thrilled they've started to benefit from all the greatness provided by the Greek Diet—and not just healthfully!
*****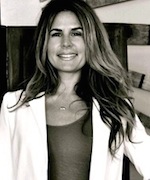 Stella Metsovas is a globally recognized clinical nutritionist and media health expert based in California. A former National USA Swimmer, Stella really began her career at age 13. Training under top Olympic coaches, she competed at the Junior Olympic and National levels. Stella is a specialist in Food Science and Human Nutrition, with over 15 years of experience in the health and fitness industries, and 8 years in private practice. Stella is regularly called on as a media resource; featured as a diet and nutrition expert in People, Glamour, Shape, Redbook, New York Times, Wall Street Journal, Los Angeles Times, Chicago Tribune, Fox News, CNN, Good Morning America, and many others. Woman's Day named Stella one of America's Ultimate Experts, and her blog was recognized as a Top 50 Blogs Every Dietitian Should Read. Born into a Greek-American household, Stella has a strong connection to the Mediterranean region. Her most recent studies are geared to understand the correlation between epigenetic factors, food and lifestyle amongst rural villages in the southern Mediterranean. Follow Stella on Facebook and Twitter.