Erika Wilhelmine Knickmann Spyropoulos has been appointed by Illinois Governor Patrick Quinn as a Commissioner of the Illinois Arts Council (IAC). The agency is governed by up to twenty-one private citizens chosen for their demonstrated commitment to the arts and appointed by the Governor.
Council members serve in a voluntary, non-paid capacity and are charged with developing the state's public arts policy, fostering quality culturally diverse programs, and approving grants expenditures. The mission of the Council is to build a strong, creative, and connected Illinois through the arts.
"Erika is a renowned Chicago artist and philanthropist whose commitment to serving others is admirable", noted Patrick Quinn in a press release.
"My appointment to the Illinois Art Council is a great honor and I will do my best for this magnificent opportunity to highlight the importance of art in our lives", stated Mrs. Spyropoulos. "Art imitates and inspires life. It gives people the chance to explore their imaginative side, enhances cultural appreciation and awareness, connects us all and makes our lives more beautiful. I believe that there is a hidden artist inside all of us. One of my priorities will be to promote the Hellenic American Art and Culture".
For Erika Wilhelmine Knickmann Spyropoulos art and philanthropy represent sharing oneself and are lifelong expressions of giving back to a world that provided her with a stage to reflect and share.
Spyropoulos's art is a glimpse of a profound and meaningful world opposite the personal devastation surrounding her during the nascent stage of her life growing up in war-torn Germany. Just as the physical canvas draws on paint to form that expression, her art draws from a wellspring of life experiences that date back to a time even before she was born.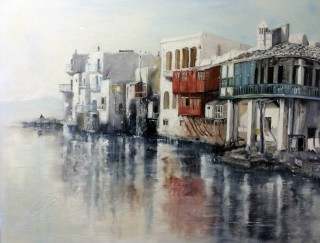 Her scenes convey a host of emotions and moods: romantic, playful, melancholic, panoramic to riveting in her portrayal of striking figures from an ancient past; mythical portraits of characters frozen in time, the sea and its beauty melded with myth, fantasy and color. There are also Greek themes which stem from her marriage to entrepreneur Theodore Spyropoulos.
Both are striking figures worthy of capturing on the portraits she draws.
Erika was born in Stroebitz, south of Berlin, and grew up in Kaltenkirchen, a small town north of Hamburg. She is a descendant of the mid-nineteenth-century poet and writer Theodor Storm. By the end of the Second World War her talents had blossomed-– her appreciation of art, music drawing, embroidery, knitting and sewing would serve her throughout her life.
She then went to Hamburg to study fashion, design, architecture, and painting at the prestigious Meisterschule fuer Mode in Hamburg. Family friends in Sweden invited her to visit and stay. There, she earned a living teaching German to young people and painted by night; neutral Sweden had been lightly touched by the war and Stockholm was a magical place for young adults.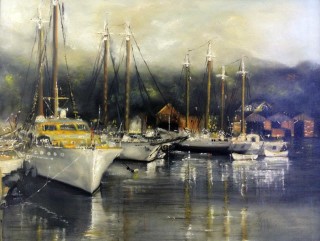 When not working she and her friends would frequent many of the popular Bohemian night spots. A favorite was the Latin Club, a haunt of artists and young people seeking to distance themselves from the past. It's here that she met an engineering student from Greece. One glance from across the room was enough to spark a romance that shines bright to this day.
"At the end of the evening, he brought me home, kissed my hand, and said good night, never to be seen again. Several weeks later, as fate would have it, we again saw each other back at the Latin Club. This time was going to be different; I had no plans of letting him get away. We ended up dating for several months until he proposed and we moved to Hamburg."
They were wed at a simple civil ceremony at Hamburg City Hall. "There was no white dress, no reception or sentimental vows. I wore my own handmade suit, had a run in my stockings, and do not even have a picture of that special day."
He worked at the Hamburg post office until he got the call to go back to Greece to serve in the Navy at the large shipyard installation at Skaramangas; she moved in with his family. "I did not speak Greek, nor could they understand German or English. I never enjoyed so many Indian love stories in the open air movie theatre or shopped at so many colorful markets as I did while in Greece."
The walled garden filled with fruit trees and a tiny old hut served as a backdrop for Erika's painting and craftwork. She began to teach again but also took lessons herself to learn the Greek language–and cooking. Ted was transferred to a desk job in Athens and moonlighted at the Athens Courier, a small German newspaper. The Spyropoulos family was about to grow: their daughter Mariyana, now an elected official in Chicago, was born in Germany while Ted finished his military service. The young Spyropoulos family decided it was time for new opportunities and headed to America to join some of Ted's family in Chicago.
In the United States, they started a small petroleum company that grew to become T.G.S. Petroleum, a company manufacturing petroleum products for companies that included CITGO and Marathon Petroleum Corporation, Clark Products, and CAM2. They sold part of the company and its assets to U.S. World Fuel Services and still retain part of their wholesale distribution activities.
Success has provided time to spend on other interests, sports, gardening, reading and painting. Erika's work can be found in private and corporate collections throughout the U.S., Australia, Europe, and, of course, Greece. She was awarded the prestigious Bicentennial Art Award for a mural depicting the "Spirit of 1776" and her work has been featured at the Beverly Art Center, Gold Coast Art Fair, and other venues. Exhibits showcasing her work include the Southwest Area Cultural Arts Council, Australian Exhibition Center, the Treasury in Chicago, and Kourd Gallery in Athens.
She and her husband are also very active with many philanthropic endeavors benefiting the Greek community in the U.S. and Greece.