Growing up I remember my mother had this "problem" that she would never fail to mention and let everyone know, no matter what the topic of conversation was about.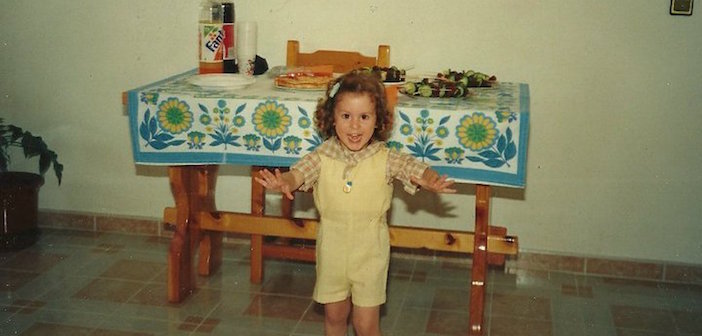 "The little one is such a picky eater" she would say. The truth is I was picky because, well, nothing tasted like my mom's food, and therefore wasn't good enough to eat. I remember my father's business trip to Chania, Crete, where my mother and ten year old self dragged along. When my father would go to work I would take my camera and mother to go tour the museums, at my mother's great discontent as all she wanted to do was tour all the bakeries from her immense worry to feed me.
Fast forward sixteen years later, not only am I not a picky eater but an avid lover of food. I love to eat, cook, talk about food endlessly, and recently, yes, even write about it. What are my credentials you may ask. Nothing else but love for a home cooked meal, nostalgia for my country, and a passion to recreate those flavors and smells that will bring me back to my mom's kitchen.
Like a lot of spoiled Greek children, while I lived in Greece I gorged on my mom's and grandmother's fabulous food, and never came close to even frying an egg or peeling a potato.
Away from the nest
Coming to the States to study, I found myself constantly hungry and dissatisfied with dorm food. All the takeout, potato chips, and ramen noodles in the world would not cure my cranky hunger. Instead of celebrating my "freedom" away from my small hometown of Preveza, I could not wait for winter break to go home to mom, where I would be greeted with my favorite soutzoukakia.
And that is how my love affair with food started. It was not out of some artistic inspiration, or a need to define myself as a "foodie" but out of necessity and an empty stomach. I kept telling myself, "wait till you get an apartment with a kitchen." Bye-bye soggy pasta, hello giouvetsi, stifado, moussaka! I dreamed of Greek food like my mother dreamed of me making As my first semester (after a while, she learned to lower her expectations). I joined my university's Hellenic Club hoping that some Greek-American kid would have a Greek mother kind enough to cook something up and bring it to our next meeting. It was no surprise when Euthimios, a big kid with glasses, brought us spanakopitakia ! I remember those buttery little fyllo pouches filled with spinach and feta to this day! I snuck as many as I could fit in a napkin, and they were breakfast for the next three days.
When I finally moved to my own place, I had to first learn how to actually fry an egg and peel a potato. After learning the basics and making sure I won't put the house on fire, I called up my mom for her soutzoukakia recipe. The years went by and my cooking skills got better. To the point where I could actually invite people over for dinners and cook for boyfriends hoping that love does indeed go through your stomach.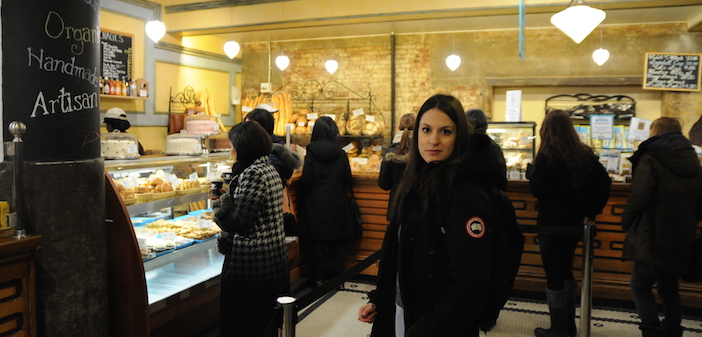 I love NY
In 2011, I moved to New York City, in quite an unexpected way. My sister proposed that I move to New York to work for her up-and-coming food company. It was my "aha" moment. Work for a food company and live in the capital of Greek-Americans in the United States? Yes please! I packed my suitcase with Greek coffee, olive oil, and honey – necessities till I could make it to the grocery store – and moved to Astoria, the little Greece of New York City.
Even if I had been told that this was where Greeks live and gather, never in my wildest dreams could I imagine the paradise that lay before my eyes! Bakeries, grocery stores, coffee shops, restaurants – all Greek and in Greek! Greek signs, Greek sounds, Greek smells! Opa!
In my ten years away from home, between Kansas, Paris, and Boston, I have never felt more "at home" than in NY. My great love, between joggling work, and being a good wife, is food. I cannot think of a single thing that makes me as happy and gives me that warm feeling as food does. I have set out on a journey to create and tell you as best as I can why Greek food is THE BEST and why you should like it too.
Bon appetit!
In my column you will find precise, traditional recipes, as well as on the spur creations. All paired with stories of a Greek mother and a young woman who loves Greece and food way too much! Happy eating!