Tired of toasters and boring baby bottle sets as gifts for families that are welcoming a newborn into their family? Try these great Greek-inspired baby gifts for your family and friends who are welcoming a son or daughter into their lives– and help the little ones show their Greek pride!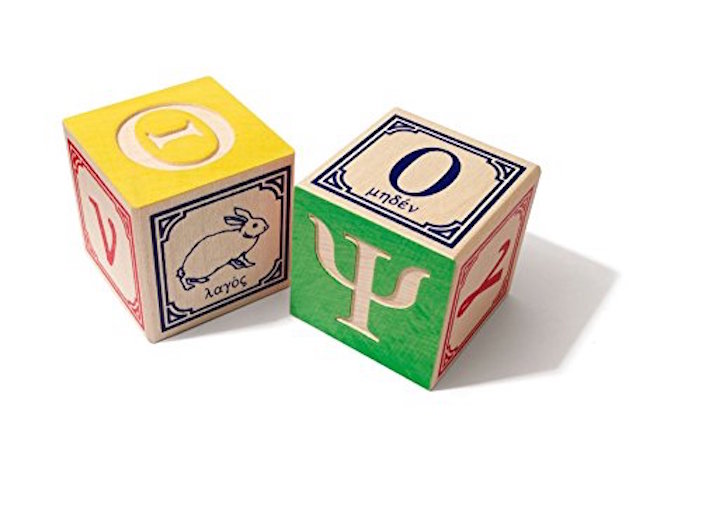 Greek letter building blocks
Alpha, Beta, Gamma, Delta… and next thing you know the little one is actually spelling his or her own name, while having a blast doing it. This great item takes the American classic building block set and adds a wonderful Greek alphabet twist. Get the Greek building blocks here.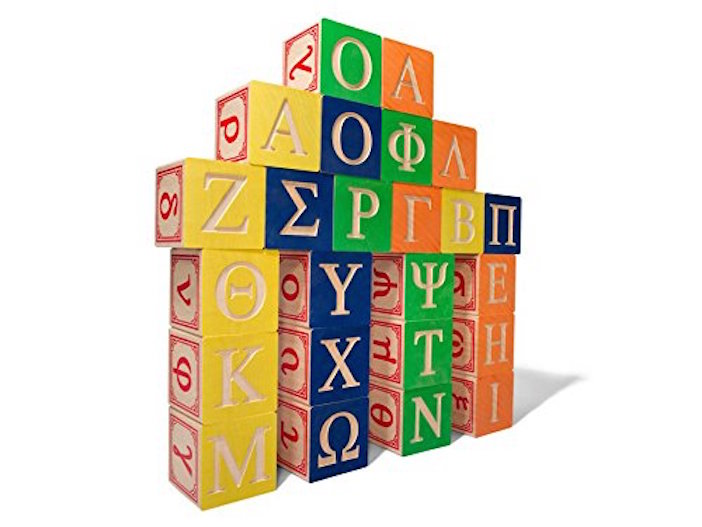 Greek key "hers" newborn sleep gown
Greek sophistication for your little girl with this timeless Greek key inspired infant's sleep gown. While sleeping in this may not prepare her for reading the Greek classics of Aristotle or Socrates, it will sure add a bit of Greek style to her crib. Also available in blue for him.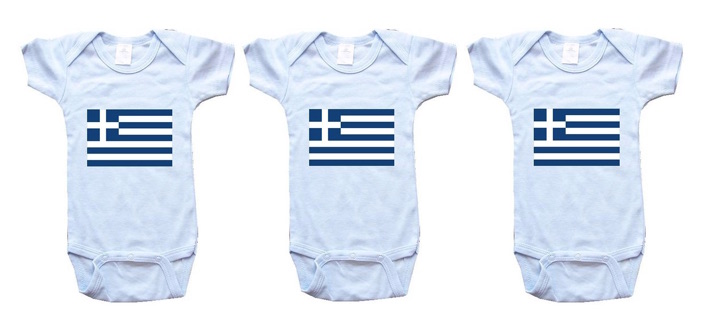 Greek flag baby one piece t-shirt
Show your baby's Greek pride with this Greek flag t-shirt. The simple design is great for showing off your baby's lineage at Greek festivals and celebrations. Get the Greek flag t-shirt here.
Toddler's baseball cap
One, two, three strikes your out! America's pastime– baseball, perfectly planted on your little guy's or gal's head. This is a toddler size baseball cap ideal for showing Greek pride, as well as keeping the sun out of their eyes. Get a baseball cap for your toddler here.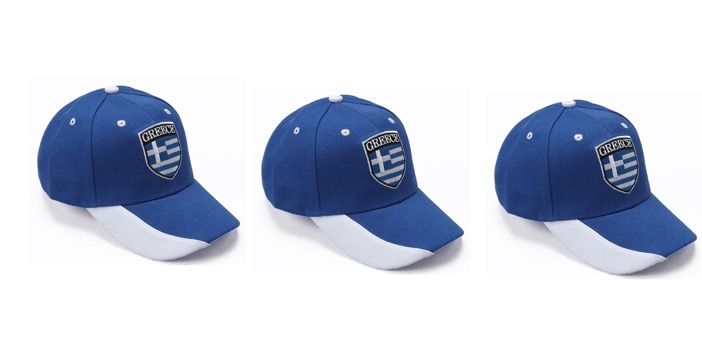 Fisher-price Laugh & Learn Nighttime Greek language Sing 'N Sleep Puppy
That's right, a Greek language stuffed puppy that speaks Greek– perfect for learning first words, and snuggling all at once. What's best– it's made with the care and quality of Fisher Price, one of the leading brands of baby toys on the planet. Get the stuffed puppy here.
Magnetic Greek-Letter Fridge Magnets
Teach your kid how to write his/her name in Greek and other words, with this Greek take on an old classic– the refrigerator magnet. Buy two sets to make sure you have enough letters to properly spell out those long Greek names. Use them for daily words to teach and have loads of fun in the process. Get the magnets here.
Greek Alphabet Magnet Letters in a Jar
Get the same fun from your fridge magnets– except in a jar with 126 letters total. Make complete sentences and teach your kids Greek words in the comfort of your kitchen with this bucket of Greek letters in a jar. Get the jar here.