Marking a personal homecoming, Arianna Huffington, President and Editor-in-Chief of the Huffington Post Media Group, today announced plans to launch a Greek edition of The Huffington Post in collaboration with 24MEDIA, building upon the brand's growing international presence, which now covers more than half of the world's GDP.
Huffington, one of the world's most successful and prominent women, left Greece as a teenager for London, where she studied at Cambridge, becoming the first-ever foreign (and only the third woman) president of the Cambridge Union. She has been named one of Time Magazine's most influential people in the world and also one of the world's most powerful women, by Forbes Magazine.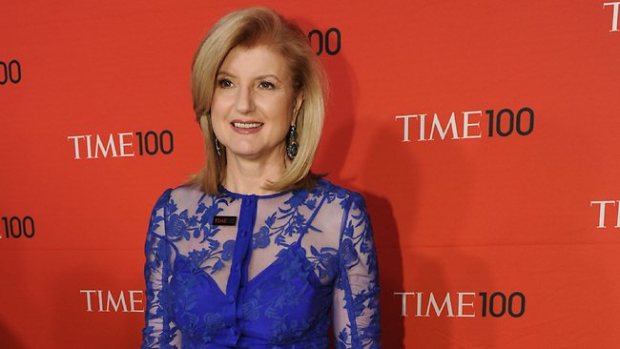 The Greek-language site will be established through a collaboration with 24MEDIA, the largest digital media publisher in Greece, backed by a number of prominent Greek financial partners. HuffPost Greece will be based in Athens and is scheduled to launch in November 2014.
"I'm so grateful to be able to bring The Huffington Post to Greece at this moment," said Arianna Huffington, President and Editor-in-Chief of The Huffington Post Media Group. "For me personally, it's the ultimate homecoming, not only because of my Greek heritage, but because HuffPost is, not coincidentally, very much rooted in a Greek tradition of bringing people together and facilitating interesting conversations. With the support and expertise of our amazing Greek media partner 24MEDIA, we'll be bringing our hybrid approach of original reporting and an inclusive blog platform to tell the stories that matter most and — just as important — help people throughout Greece tell their stories themselves, in words, in pictures and in video. For me, launching HuffPost in Greece is a once-in-a-lifetime opportunity to work with a country that has given so much to me."
HuffPost Greece is the third international edition to be announced in the past month, with HuffPost India slated to debut in November 2014 and HuffPost Arabic in January 2015. HuffPost Greece is the latest addition to The Huffington Post's integrated global newsroom, which has hundreds of editors who collaborate in real-time to create content in eight languages using a custom unified tech platform and will cover 14 markets by the end of January 2015.
"Both in the US and internationally, The Huffington Post has quickly emerged as a truly unique and highly innovative global media brand, a phenomenal digital success story with readers at the very epicenter," said Stavros Drakoularakos, CEO of 24MEDIA. "We will use all of our know-how and experience to ensure that this rapidly becomes the case in Greece as well. It is our privilege to partner with the Huffington Post in Arianna's native country."
"With the Greek economy seeming to have turned a corner in 2014 and with real GDP forecast to grow more than 6% over the next two years, this is an exciting time to be launching our Greek edition," said Jimmy Maymann, Chief Executive Officer of the Huffington Post. "And by combining this new Greek language edition with the global reach of the Huffington Post we are also perfectly placed to deliver an innovative new news service to the estimated seven million strong Greek population living all over the world."
The Huffington Post has 115 million multi-platform unique visitors per month in the U.S. Newswhip listed The Huffington Post as the number one publisher on Facebook in August, for the fourth consecutive month.
The Huffington Post is a Pulitzer Prize-winning source of breaking news, features, and entertainment, as well as a highly engaged community for opinion and conversation. The Huffington Post has 115 million multiplatform unique visitors per month in the U.S. (comScore, August 2014). The site has over 80,000 bloggers — from politicians, students and celebrities to academics, parents and policy experts — who contribute in real-time on the subjects they are most passionate about. The Huffington Post has editions in the UK, Canada, France, Spain, Italy, Japan, Maghreb, Germany, Brazil and South Korea. The Huffington Post is part of AOL Inc. (NYSE: AOL).